IN MEMORIUM
TO
THE VICTIMS OF 9/11
AND TO
THE MEN AND WOMEN WHO HAVE DIED SINCE 9/11
DEFENDING THE HOMELAND FROM FUTURE ATTACKS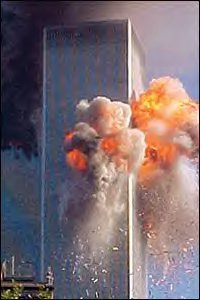 The 2nd Tower is hit.... The numbers are indelible: 8:46 a.m. and 9:02 a.m. Time the burning towers stood: 56 minutes and 102 minutes. Time they took to fall: 12 seconds.

Go HERE for a slide show of pictures from the September 11th attacks.
NEVER FORGET THE ONES WHO DIED AND ARE NOW DYING TO PROTECT FREEDOM.
We must remember that this is a war we cannot afford to lose....and once again come together to pledge "our Lives, our Fortunes, and our Sacred Honor" to defeat the Islamofascist savagery that threatens our entire civilization.

Click here for a moving tribute "We Remember" from the Marines in Iraq
at American Daughter